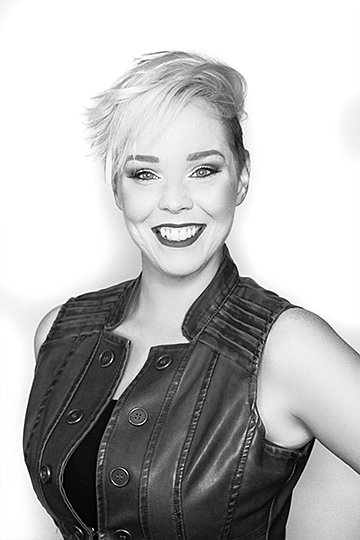 . . . . .As a long-time client of Michael's Couture Salon, to working as their Salon Coordinator for several years, the Michael's Team sparked a deep-set passion in her that led her to pursue education to further her career in the Hair/Beauty industry.
. . . . .During her cosmetology school journey, Shelly was the Student Ambassador for the cosmetology program, graduated as a member of the National Technical Honors Society, and received second place in the State of Florida with the Skills USA Championship. She is continuously learning and expanding her knowledge (both old and new) in the ever-changing beauty industry to offer her guests endless possibilities.
. . . . .Shelly is dedicated to making people look and feel their absolute best. Her focus being to preserve the integrity of your hair, to create wearable looks that fit your lifestyle and offering tips/tricks for recreating the looks at home, all while providing friendly, luxurious, and attentive service. Shelly can't wait to welcome you, and help you find the perfect look for you!
DESCRIBE YOURSELF IN ONE WORD.
. . . . . Passionate!
HOW DO YOU DECIDE WHAT TO DO FOR AN INDECISIVE CLIENT?
. . . . .Together, we will explore our options by looking at photos and discussing lifestyle and maintenance. During the service, I will gladly give tips and tricks to help you recreate the style at home. I am dedicated to helping you find the perfect look and customizing it to fit your needs.
WHAT IS THE BEST PART OF YOUR JOB?
. . . . . When a client gets out of my chair, and suddenly becomes a supermodel. She has a little extra sass in her walk, swings her hair more than normal, or takes a selfie before leaving the salon. It's a sure indication that I have met my goal: To make her feel beautiful.
WHAT IS YOUR MOST MEMORABLE MOMENT YOU'VE HAD WHILE DOING HAIR?
. . . . . "The Grand Reveal" at Michael's Couture Salon's Colorblind event. Our guests bravely came in without knowing what color/style we would be doing, and trusted us through the entire process. At the end, my client/winners new look was revealed to her, and she was indescribably excited, and couldn't have loved her look more! The smile on her face was priceless!
WHOSE HAIR WOULD YOU LOVE TO WORK ON?
. . . . . Yours! 😉